Quality confirmed: Miross received ISO 9001 certification
May 5, 2015
Miross received ISOQAR certification for management in the organization of events, business trips, and special arrangements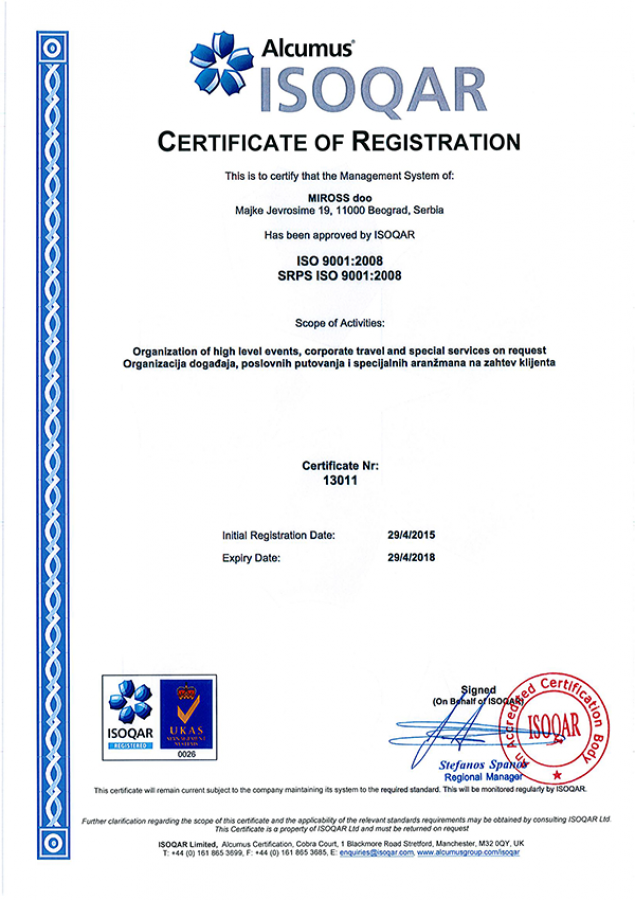 We proudly inform our valued clients and website visitors that Miross has obtained an ISOQAR certification for management in the organization of events, business trips and special arrangements at the client's request.
ISOQAR is an accredited certification body authorized to conduct company appraisal and to issue certificates for a range of management systems. Miross has fulfilled the requirements for obtaining ISO 9001: 2008, an international standard that contains requirements for a quality management system that a business organization must meet in order to comply with internationally recognized standards.
The purpose of implementing this standard is to increase the efficiency of the organization by applying a process approach. But in addition to contributing to efficiency gains, ISO 9001 also helps companies gain customer trust, improve or maintain the quality of their products and services, expand into new markets and compete in major tenders.
The Miross Agency would like to thank the clients who have been with us all this time, showing us their trust and helping us to constantly improve our work. Also, we want to emphasize that the achievement of the results we have qualified for the mentioned international standard is due to our entire collective - all employees who have been working in the best interests of the company and its clients for many years. We hope that in the years to come we will justify all our past certifications of our quality, as well as earn new ones.
You might be interested in: